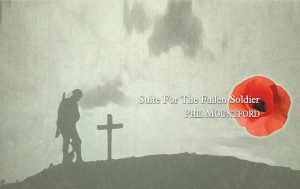 As the premier of Suite For The Fallen Soldier gets ever closer – Armistice Day 2016 – I have released a few studio rehearsal recordings on the choral suite projects website.
Some of the recordings that were made to assist the choir in learning the scores have been uploaded now that the compositions have been completed and arranged (mostly for SATB, solo cello, piano/church organ with additional parts for children's choir, alto & soprano soloists).
Some of the music from the commemorative World War 1 choral narrative suite can be found here.