Classical Composer
Phil's award winning lyrical and melodic style of classical music composition has received much critical acclaim not just through his own ensemble Fordante. He has also worked on classical commissions from strings quartets to full choral works.
Suite for The Fallen Soldier – commemorating the centenary of World War 1
Phil was commissioned to compose a suite of choral music to commemorate the centenary of World War 1 which was premiered on Armistice Day 2016 with a combined choir of over 70 voices. 'The Suite For The Fallen Soldier' is a 50 minute suite of 11 pieces, including an arrangement of 'Stille Nacht' (Silent Night), that follows the fictional story of a new recruit from enlisting to his ultimate demise and the effect this had on those who knew him. The suite was written to be performed both a complete work or as stand alone pieces, several of which take the text from the Requiem Mass. The suite was premiered with performances from original letters written by poet Kathy Gee.
Further information, including the choral and instrumental scores, can be found here www.suiteforthefallensoldier.com
The following videos are from studio recordings of Suite for The Fallen Soldier featuring some of the voices from the choirs who featured in the premiere. The cellist is Josh Mountford.
Fordante – Critically acclaimed ensemble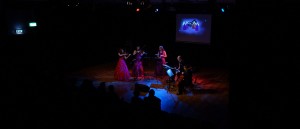 Phil is often in concert with his five piece (violin/viola/cello/oboe/piano) crossover classical quintet, Fordante. (www.fordante.com)
He formed the ensemble in 2009 as a channel for his classical works and the group has since gone on to receive much critical acclaim. In keeping with the original concept behind the ensemble, which was to provide an accessible approach of listening to classical music, the wind/string/keyboard quintet also explore a broader repertoire featuring light classical music and of course a genre that Phil is particularly passionate about, music from the movies.


Italian Love by FORDANTE
Serano by FORDANTE
The Arrival by FORDANTE